BARC
"The purpose of BARC is to establish an international archaeological center that will transform Bornholm's unique potential into an archaeological field for a strong professional environment that – in close collaboration with other institutions – will help to educate the archaeologists of the future on an international level." 
(Jacob Berring-Hansen)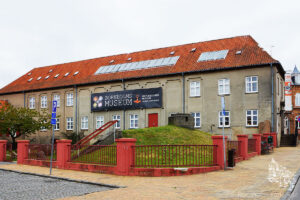 BARC is currently housed at the facilities of the Museum of Bornholm and we are working to find the proper location and sponsorships to develop the facilities.  
The core idea is to have facilities that can keep "all under one roof".
"All" under one roof
The Bornholm Archaeological Research Center will be an institution with plenty regulating and ruling faculties in regards to protection and conservation of tangible and intangible cultural heritage, at the forefront thanks to the level of excellence of research in archaeology, anthropology, history, restoration and museology, as well as in professional training within the sphere of its competence.
Sustainable economic
BARC will benefit economic form the participants to the Interdepartmental Archaeology Program of several national and international universities. The Center has also considered a broad range of archaeology courses designed to suit all interests – our seminars, symposiums and archaeology courses will range in duration from three weeks to ten weeks. Each one of them will be targeted at a different market – for example: Scandinavian Archaeology, Archaeology of the Baltic Region and Principles in Archaeology.
DNA:
Historical competence
Historians associated with the BARC will help to do research, preserve and convey the Bornholm history and make knowledge and archives available for collaborative partners and the community. It is the Bornholm's Museum Collection whose historical and artistic significance makes them landmark pieces in the history of the region.
Local Communities
Community of Volunteers on Bornholm both in the archology and the historically field.
Magazines
New and more spacious magazines for the conservation of the Bornholm heritage.
Workshop
A significant part of research and analysis efforts is centered on preventive conservation and care of the pieces, which involves adjusting, and optimizing the storage, handling, and exhibition conditions of the artworks. Much of this work is supported by the staff specialized in the workshop area.