From 2018, the Bornholm Archaeological Research Center will provide instruction and inspiration to scholars and students (graduate and undergraduate) as well as general public seeking self-enrichment. Interns will achieve success in professional positions in the cultural, arts and museum sectors. The relationship between the institution and the student is mutually beneficial; with guidance from museum professionals, Interns gain practical experience by working on projects and programs while the BARC and the Bornholm Museum benefits from their contribution.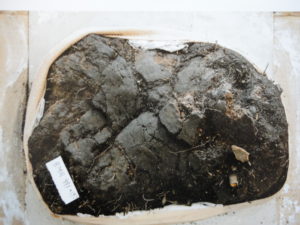 We offer a limited number of unpaid internships at BARC for current students and recent graduates during the academic year. These internships provide for the development of professional skills or research in a variety of fields and learning about museum practice.
In addition to focused learning through projects in various areas, students join a community of interns, volunteers and staff. All BARC interns have opportunities to attend gallery programs, presentations by staff, and behind-the-scenes visits.
Although the BARC does not offer direct economic resources for internships, the agreement done through its partner institutions allows students to apply for scholarships or grants through the Erasmus+ Program.
How to Apply
Submit a PDF or Word document via email to nc@bornholmsmuseum.dk including the following information:
The area(s) at BARC that interest you, your academic interests and skills

A short essay explaining why you want to be an intern at BARC.

An unofficial transcript and a résumé (including references) describing your past work and internship experience.
Depending on the area(s) you select, you may be asked to submit a short writing sample.
Review Process
A selection committee composed of staff from relevant departments will review all applications.
Role Description
After being interviewed and accepted into the BARC's internship program, Interns will meet with their supervisor to come up with a work schedule for the semester. Each internship will include a mix of specific projects and departmental work with interns encouraged to participate in the design of their projects. Internships are unpaid.
Equal Opportunity
The BARC welcomes applications from people from diverse cultural and linguistic backgrounds and people with a disability.  If you have individual requirements that need to be accommodated in order to participate in the selection process and join the BARC, please indicate this in your application.
Curatorial Internship
Curatorial interns work alongside professional staff in the BARC and the BM. The department's archaeological research and collections document the breadth, depth, and complexity of the Archaeological and Historical cultural history and World Heritage. Research sources include archaeological and historical objects, prints, photographs, and archives. Interns will have opportunities to work on a variety of projects which may include research, exhibition, and/or collections-related activities, depending on the nature of the assignment.
Projects
Some examples of duties include the combination of any the following activities:
Photograph, describe, and document artifacts

Assist with scholarly historical research for use in Museum publications, exhibitions, and public programs, using Museum and outside sources

3D register of the material from the collection

Working on databases

Respond to public inquiries

Determine the provenance of artifacts

Create and maintain databases of the collections

Write finding aids and organizing guides

Assist with accessioning, cataloging, numbering, and housing objects in the collections

Assist with care and basic conservation of objects in the collections

Review concept documents for exhibition development

Prepare materials for fund-raising purposes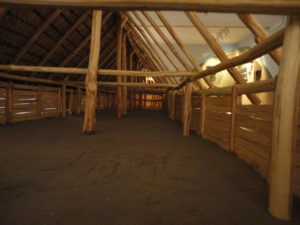 Qualifications:
A variety of skills are needed and can include any of the following:
Knowledge of archaeology of the Baltic region, history of the Baltic region

Knowledge of standard office computer skills, including database software and word processing

Knowledge of specialized computer software, including GIS, CAD, Photoscan, Unity, SketchUp, Adobe Illustrator, InDesign, Acrobat Professional, Photoshop, QuarkXPress, FileMaker Pro,

Library research skills

Some experience with object handing, accessioning, or preservation

Some experience with exhibition development

Ability to work independently and on detailed tasks

Archaeological background for work on collections
The Archaeological and curatorial office is primarily responsible for overview and enactment of executive strategic initiatives that impact office functions including collection stewardship, exhibition development, and management of other curatorial assets. New interns will work on staff management resources and training, programs for collaborative exhibition projects and research, and the creation of innovative development programs to support all curatorial work.
Applicants are strongly encouraged to consult the BARC-I.O., for further information.
Education and Public Outreach
The Department of Education and Public Outreach (DEPO) serves the BARC and BM's audiences both on- and off-site, through education, exhibition development, public programming, visitor services, Web and social media, and evaluation. The department is actively involved in developing new ways to make history come alive through innovative outreach programs that will reach the widest possible number of visitors.
Interns work with DEPO staff and volunteers in a variety of capacities and on a range of tasks, including the following activities:
Welcome visitors and present history in a variety of hands-on learning opportunities

Wear historical costumes to promote specific historical themes or celebrations

Participate in interpretive planning, exhibition development, and prototype testing

Assist in development of school, teacher, and after-school programs

Assist in creating and administering content for the BARC and BM's website, blog, and social media (see Web and Social Media opportunities)

Help to expand resources for object-based history for the Baltic Region.

Research and prepare oral histories for permanent posting on the website by utilizing the Museum's archives
Qualifications for the positions:
Degree or expected degree in Europe history and culture, education, humanities, museum studies, museum education, music, communications, marketing, or a related field

Demonstrated interest in museum programs, production, education, history, and/or marketing

Strong writing, research, organizational, interpersonal, and computer skills

Knowledge of desktop publishing software a plus
How to Apply
Interested students must go on BARC-I.O., website to apply online for this internship.
Qualifications:
Excellent writing skills

Familiarity with social media

Basic knowledge of Europe ancient and modern history
Applicants are strongly encouraged to consult the BARC-I.O., for further information.
Former Graduate Students 
Name: Ditte Elisabeth Pelle Kofod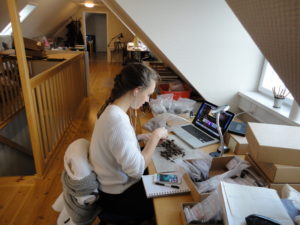 Institution: Prehistoric Archaeology at Aarhus University
Project: The project discusses the transition from Mesolithic to Neolithic, different analytical areas are included, which consist of location and topography, the cultural development as a society in an "island" and how these facts can prove undiscovered details about the Ertebølle-culture.
Period of internship: August – December 2017
Summary of the project:
In Autumn 2017 the student participated in an internship program at the Bornholm's Museum in order to get an insight to the daily work at the museum, as well as activities related to projects in to the student's ongoing master thesis.
The activities consisted of registering new material, taking photos of the objects and construct lists of finds, etc. The material was handed in by volunteers, who have processed the objects from different stone age locations at Bornholm. Particularly, the material was from Ertebølle sites which is the period the student has chosen to focus on her master – Ertebølle locations and where they are located in the landscape, in order to explain and discuss the importance of topography when searching for old as well as new stone age settlements.
The sorting and recognition of material was a great opportunity to strengthen the students' knowledge of flint and ceramics, and other materials. Since some of the handed in material were not sorted before, it gave the student a chance to have the material in hands apart from learning from pictures and/or drawings. Besides sorting material, the student participated on prospections to see and learn about the landscape where known Ertebølle-locations had been excavated, all this in order to analyze the surrounding terrain. What's interesting about the settlements is that prehistoric hunter/gatherers were always near to natural resources as water and forest, and these aspects that give archaeologists possibilities to discover new locations.
Final outcome:
List of finds from Ertebølle-culture.
Unfinished report – upcoming exam December 2017.
Catalog and maps.
———————
Name: Timmis Maddox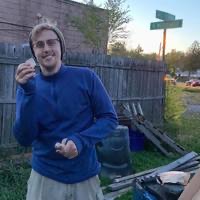 Institution: University of Wisconsin
Project: A Longitudinal Study of Environmental and Cultural Sustainability
This project proposes an interdisciplinary analysis of the relationship between prehistoric urbanization on the Danish island of Bornholm and its effects on the physical environment. While not existing in a vacuum, the 227mi2 island of Bornholm presents a natural laboratory in which to archaeologically examine the environmental issues associated with urban development on a smaller scale and the possible solutions reached by past communities. Modern communities on the island are currently experiencing rapid development, with large growth taking place in both local agriculture and tourist industries as part of Bornholm's "Green Island Initiative". By understanding the problems prehistoric groups on the island dealt with as a result of the emergence and development of urbanization—including the transformation and degradation of the physical landscape—modern communities can be better prepared for similar issues they may encounter in the future.
If accepted, this project would act independently of the work currently being performed on the island of Bornholm as part of the ArchaeoBalt program. As a secondary project, however, this program would receive support from the Bornholm Archaeological Research Center—including access to records of previous archaeological surveys/excavations, the provision of basic supplies and equipment, and the availability of a trained labor force. Ultimately, both of these projects will benefit from the planned collaboration, as each would provide answers to questions concerning Sorte Muld and prehistoric Bornholm which neither could answer alone.
Latest publication:
A storm of swords and spears: The weapon dancer as an enduring symbol in prehistoric Scandinavia
Name: Glenn Hedemann Petersen
Institution: University of Lund, Sweden.
Currently enrolled as a BA student with the Department of Archaeology & Ancient History in the Joint Faculties of Humanities and Theology at Lund University, southern Sweden (since 2018).
Glenn has taken courses in Runology, Anthropology of Religion, Old Icelandic Heritage and History of Religions and he has tried to approach archaeology from an interdisciplinary perspective, focusing his efforts in his BA-thesis on Female ritual specialists pertaining to the Late Scandinavian Iron Age. In his M.A., currently on progress, he writes on the symbology and agency of cauldrons in connection with pre-Christian Scandinavian death rituals and attempts to cross-reference archaeological sources with historical sources.
He has also taken a keen interest in folkloristics and ethnographic reports from various cultures across Europe, Asia and the Americas; he hopes to implement some of those studies into his topics of interest, which include ritual practice, funerary archaeology, and pre-Christian religions of the north.
From 2018 until present he has been a part of the Bornholm's Museum summer excavations, which includes Store Bjerregård, Sorte Muld, Vasagaard East and West as well as Klippehøj. Recently he has been doing fieldwork at both Bjerregård and Sorte Muld, including sorting and registration of finds. Furthermore, he has through his studies participated in excavations in both Södra Sallerup and Uppåkra in Scania, Sweden.
Institution: University of Ioannina, Greece.
Aristeidis Kourelis studied History, Archeology and History of Art at the University of Ioannina, from where he acquired his diploma in 2018. Currently he is a postgraduate student at the University of the Aegean, in the MA program of Archeology of the Eastern Mediterranean and his main areas of focus are Greece, Egypt and the Near East from the Prehistoric times until the Late Antiquity. He has participated in excavations in Greece and in Czech Republic regarding a wide range of different time periods, from Neolithic up to Greco-Roman period.
He joined the Erasmus internship program in order to participate with the Bornholm Archeological Research Center (BARC) and the Museum of Bornholm. Once the conditions related to Covid-19 allowed to travel, he participated in the Sorte Muld excavation project (ArchaeoBalt). His interest was to gained knowledge regarding to Northern European Iron Age time period and the methodology use in Danish archeology in their excavations.
The international character of the project and the bonding of the team allowed him to make some good colleges and friends. During the 8 weeks of excavation he was under the guidance and supervisors of the staff. He developed the necessary skills regarding the archeological process of a systematical excavation. After the excavation, he continued his traineeship at the BARC, there he acquired digital 3D documentation skills of finds as well as with an introduction into the GIS database of the museum.
Outcome:
Technical report of the area of excavation he was in charge.