Rescue and salvage archaeology
Site: 
Nebbehøi
Responsible: Nicolas Braun
Nebbehøi is a burial mound from the Bronze Age (Period 3), where archaeological excavation was carried out during the 2019. Half of the mound was examined and dug out in 1893, but the surviving half of the mound were covered in a thick layer of sand, which meant that there were very good conditions to identify the way the mound have been constructed and the relation between the mound and many cremation graves from the Iron age that surrounded the mound.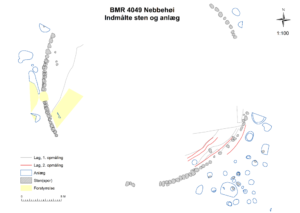 Plan of the remaining stones that marks the base of the 29m in diameter large mound. Most of the blue circles on the plan are cremation graves that in most cases were marked by a larger stone.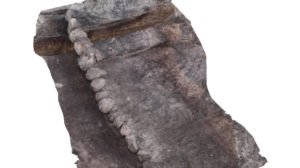 3D image of the excavation and documented layers (Photo Nicolas Braun)
Site: Smallesund
Responsible: Nicolas Braun
From April until May 2020, the Museum of Bornholm worked on a dig in the outskirts of city of Rønne. This place was of particular interest because it was located where an old stream had once its path.
On a hill looking down to the former wetland where the stream had run through, there the remains of an enclosure associated to a burned down house from the late Viking Age and early Middle Age. In the old stream that had been covered with soil for centuries, big amounts of bones were found, probably thrown out by the settlement above. The bones were from different kind of animals such as pigs, chickens, sheep, goats, horses, cows and even from seals. On top of those remains, it was also possible to find the bones from a dog of a lean race with long legs.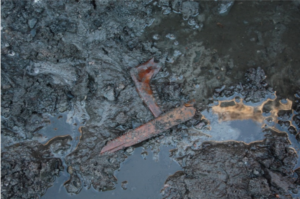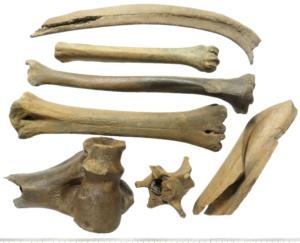 (Photos: Nicolas Braun)