Bornholms Museum has received a grant of DKK 3.8 million from the AP Moller
Foundation for the establishment of the International Archaeological Center and a new magazine to safeguard the unique local cultural heritage for which the museum is responsible. The grant secures a project the museum has been working on for several years, and it provides the opportunity to create a strong starting point for the development of archaeological work on Bornholm.
– Bornholm has unique archeology and has built up a unique network for European and North American universities in recent years. The establishment of the archaeological center is a decisive event which will secure this position internationally.
It is equally gratifying that with this grant we also get a magazine that contains the central Bornholm cultural heritage from the first Bornholmers to the present day.
In the new center, permanent laboratory and processing facilities will be established, office spaces for researchers and students, as well as the possibility of communicating archeology through lectures and the like.
https://tidende.dk/kultur/millionstoette-sikrer-internationalt-center-paa-bornholm/134505http://bornholmarch.eu/
The Energy Island Bornholm Project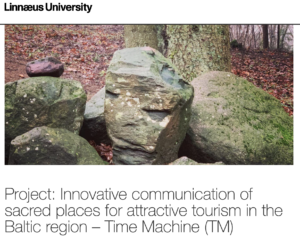 Scandinavian's oldest cup mark carvings discovered on Bornholm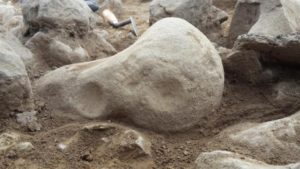 Archaeologists have made a sensational discovery during an archaeological excavation on the Danish island of Bornholm in the Baltic Sea: two complete stones with cup mark stone carvings dating back to the early Stone Age.
This makes them the oldest known such cup marks–a type of petroglyphs–in Scandinavia by about 1,200 years and their discovery has surprised archaeologists.
The carvings contain figures and symbols, which have been cut, chipped, and ground, into the stone and are regarded as typical of the Bronze Age–the period following the Stone Age.
Many archaeologists suspected that they were in use long before this, and now they have the first evidence to show it.
"It's a breakthrough. We've waited to be able to prove this and it's fantastic that our assumption has finally been realised," says lead archaeologist at Bornholm's Museum, Finn Ole Sonne Nielsen, who also collaborates with the National Museum of Denmark, Aarhus University and the University of Copenhagen.
(See complete note)
http://sciencenordic.com/scandinavia's-oldest-cup-mark-rock-carvings-discovered-bornholm
Golden Sacrifices

A publication of the Archaeological Institute of America
Monday, August 12, 2013
During the past four years, on the Danish island of Bornholm, archaeologists and amateurs have uncovered a collection of remarkable gold figurines dating from the sixth or seventh century A.D. According to Bornholm Museum archaeologist René Laursen, the figurines represent deities and were sacrificed with wishes for health, fertility, or a good harvest. "They are very unusual," says Laursen. "Although we know of a few figurines from Scandinavia, they are usually bronze." In addition to many silver, bronze, and iron artifacts, 24 gold foil figurines have also been uncovered at the site—called Smørenge, or "Butter Meadows"—probably all offerings at one or more sacred springs, or perhaps even a temple.
https://www.archaeology.org/issues/103-1309/trenches/1147-denmark-bornholm-golden-figurines


Spectacular archaeological find in Denmark
5,000-year-old map unearthed on Bornholm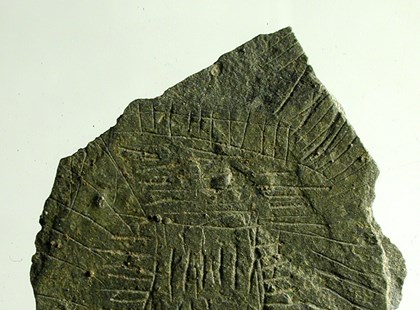 More and more Stone Age maps are turning up on Bornholm (photo: National Museum)
October 19th, 2016 12:30 pm| by Ray W
A mysterious stone found in a ditch on Bornholm by archaeology students during the summer has proven to be a 5,000-year-old map.According to the magazine Skalk, the stone was discovered during  archaeological excavation work at the Neolithic shrine Vasagård.
The stone has been studied by researchers at the National Museum of Denmark. Unlike previous and similar findings, Flemming Kaul, an archaeologist and senior researcher at the National Museum, is reasonably certain that the stone does not show the sun and the sun's rays, but displays the topographic details of a piece of nature on the island as it appeared between the years 2700 and 2900 BC.
Ritual stones
Kaul called the stone "without parallel". In recent years, excavations at Vasagård have turned up several stones inscribed with rectangular patterns filled with different rows of lines and shading.
"Some of the lines may be reproductions of ears of corn or plants with leaves," said Kaul.
"These are not accidental scratches," said Kaul. "We see the stones as types of maps showing different kinds of fields."
The recent find was not complete. It is made up of two pieces and one piece is still missing. Archaeologists believe the stones were used in Stone Age rituals.
http://cphpost.dk/news/spectacular-archaeological-find-in-denmark.html


Viking treasure unearthed in Bornholm